"How good is my Dutch and what is missing?"
Making the most of your time
Have you been planning to improve your Dutch language for a long time? Thanks to several excellent online video chat programs, all the language courses continue with my course participants and you can 'use your time at home' to the full. We can see and hear each other. I also share a PowerPoint with you, as well as sound clips and videos. It is a little less fun, but it works fine online.
Do your foreign employees now also work from home? For them it might be a good opportunity to learn Dutch well and to make their daily life at home a little more varied by means of language training.
I am grateful that I am still able to practise my beautiful profession as a language trainer. This week I concluded my Dutch language training with Ramses Shaffy's 'Zing vecht huil bid lach werk en bewonder' ('Sing fight cry pray smile work and admire'). Teaching (imperative form), beautiful and appropriate.
Become part of the fun
by learning the Dutch language.
Learn Dutch with Überhaupt Taaltraining,
the fun, effective and efficient way.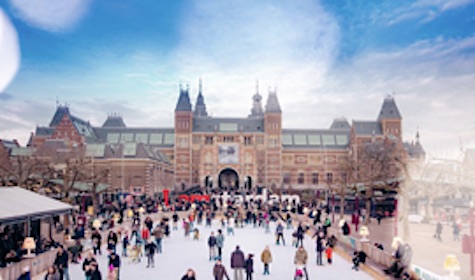 Überhaupt Taaltraining offers affordable and tailor made Dutch and German Language Training, exactly aligned to your wishes and needs, including cultural (business) differences.

Free test training with level exploration
Call 0031-6-27.89.06.89
for a free intake and level determination.
Überhaupt taaltraining
FROM: "I DON'T SPEAK DUTCH AT ALL" TO: "NEDERLANDS, ÜBERHAUPT GEEN PROBLEEM".
Überhaupt, Tailor-made Language Training
Affordable tailor made language training (business) Dutch, exactly adjusted to your needs.
Überhaupt Taaltraining offers you affordable and tailor made Dutch and German Language Training, exactly aligned to your wishes and needs.
With owner and language trainer Isabel van Boetzelaer you will feel at home.
In her own sympathetic, creative and varying way she teaches you the Dutch language, matching your needs and corresponding to your Communication goals as well as themes and vocabulary used in your line of business.
As a native Dutch and German speaker and being fluent in English, she benefits from and makes use of the similarities and differences between these languages. This is particularly effective and efficient in her methodology.
As a result of many years of experience in business with English, German and Dutch suppliers and clients, Isabel knows the cultural differences, as well as the specific rules and codes of conduct in business relationships between these countries.
As a graduated Communications Scientist and a fully qualified teacher she knows how to train her students in well-structured and creatively designed classes.
Affordable language training
Do you want to learn or improve your Dutch or German but you shy away from the cost?
With Überhaupt Taaltraining you book your language course directly from the language trainer, without the involvement of a costly intermediary agency. To avoid unnecessary overhead costs we will almost always arrange In-company training.
Wat clients say about
überhaupt
Crystal Paruntu
Content Creative | Blogger and Content Writer / DOM Security
Isabel taught me for Dutch private lesson, A1 to A2 level. She was a very professional teacher and I can see that she has lots of experiences in teaching. She delivers her materials in a professional manner and she motivates me to study Dutch even more after the course has ended. I have a tendency to learn grammar first before speaking, and she mixes both methods so I can master Dutch grammar and still use it in daily conversation at the same time. I would definitely recommend her if you are looking for a private Dutch teacher.
Yvonne Smits
Online content Manager / Spalder Media Group
Isabel has helped me improve my knowledge of the German language. During my private lessons with her, I've learned a lot. Isabel is a very kind, fun and patient teacher. She understands your needs, strengths, and flaws, and she makes sure you learn what's best for you. I've finished my course with more self-confidence and knowledge about the German language
Robert Wolf
/ Renewable Energy Group
"I took a course of German language training with Isabel, to refresh the German grammar after 15 years and to improve my skills in business writing. The lessons were varied, matched the right level and were interesting. The materials used matched my wishes. Although the course was intense, it was very well combinable with my daily work. The experiences with Isabel were so satisfying that my colleagues decided to book a Dutch language course with her."
Thomas Verheul
eigenaar/directeur / Thomas Verheul
'Isabel van Überhaupt Taaltraining heeft 3 mensen in ons bedrijf Duitse training gegeven. De doelen werden van tevoren realistisch besproken en deze zijn ook behaald. We hebben er dan ook veel aan gehad, aangezien we nu met de Duitse mensen in ons team goed kunnen communiceren, wat voorheen niet kon. De lessen zijn interactief, gevarieerd en ze past ze moeiteloos aan naar ons niveau. Isabel is zeer professioneel in haar aanpak, maar ze is ook een gezellig en aardig mens, wat het toch een stuk leuker maakt om Duits te leren. Wij raden haar van harte aan!'
Drs. F.F.I. van de Voort
SENIOR PURSER KLM / KLM
In preparation for my association exam German language, requested by my employer KLM, I had an intensive language training course with Isabel van Boetzelaer. My experience was very positive, at the personal pedagogical level as well as language technically spoken. Isabel teaches in a friendly, pleasant way and has coached me, so I passed my exam excellently. In short, I would definitely recommend Isabel!
I did not dare to speak German, thanks to Isabel's classes, now I pick up the phone without hesitation and c all our franchise partners in Germany. We have practiced a lot. Isabel is nice, friendly and patient and can explain difficult subjects in a clear way, with lots of practical examples. Finally I do understand the grammar now!
Suzanne Speetjens
/ Search & Solve
My experience with Isabel van Boetzelaer/ Überhaupt Taaltraining is very positive. In her own personal way she manages to prepare candidates efficiently to do business on the German market in a professional way. Her professional and committed attitude is a clear advantage to working with larger language training organizations.
Hannes Willems
/ Spalder Media Group
For my work I had private classes German with Isabel and I enjoyed it a lot. When I started, my knowledge of the German language was close to nothing, but after 5 months intensive classes I was already able to talk to our clients on the phone. Together with Isabel I have made major steps. She gave me the right tools, so I got in little time a good base from where I can develop my German skills further. Even after the classes finished. Isabel is very flexible in the set-up of the course and adapts it to your wishes. Furthermore, she is very friendly and pleasant to deal with. The exact opposite of the angry German teacher at high school.
Boris Koster
Head of Business Development Fixico / Fixico
As I was responsible for the set-up of our German branch, I needed to develop my German language skills rather quickly and thoroughly. Luckily I found Isabel, who was very flexible and able to provide just the tailored solution that I needed to develop these skills, which met my specific business needs. My German base level wasn't sufficient to start with, but in a few lessons I was already able to acquire new partners in German and talk with customers on the phone. Especially Isabel's pleasant and friendly way of teaching really contributed to develop myself quickly. After 6 months the German branch is completely set up and performing on a high level, which would not have been possible without breaking the language barrier together with Isabel. Without Isabel this would be a complete different story. I highly recommend Isabel's language training to anyone who needs to speak German in a business environment!
Contact
Information request Dutch and/or German language training
I would like to be informed about
Dutch and/or German language training
Do you have a question or remark? Please leave your name and phone number and we will call you back as soon as possible